Unsecured Business Loans
Unsecured business funding from $5,000 to $500,000 for small businesses in Australia | Online Application | Funding available in 24 hours.
From 9.9% p.a
Interest Rate
A complete guide to Unsecured Business Loans - 2021
If you are a small or medium enterprise looking to expand your business or some urgent working capital, an unsecured business loan could often be the answer. Below is a guide to understanding unsecured business loans, their advantages and how you could leverage them for your small business finance needs.
What is an unsecured business loan?
By definition, an unsecured business loan is one which does not require the borrower to pledge an asset or collateral against the debt.
Usually, when you avail a business loan from a bank or lender, they require some sort of asset or collateral to be pledged against the loan. These are called secured loans. A collateral is usually taken as an assurance by the bank or the lender to ensure that they can recover the money in case the business fails to repay the due loan amount. The value of the collateral or asset is often more than the amount that is offered as a business loan.
Loan amount and repayment period
On the other hand, an unsecured business loan is provided without any assets or collaterals, purely on the basis of performance of the business over a period of time. This requires the borrower to show a consistently good credit rating, an excellent financial track record and adequate cash flow forecast. Since the bank or lender takes a higher risk in providing these business loans, the interest rate associated with these loans are also often higher.
Unsecured small business loans are often offered for shorter periods ranging from 3 months to about 5 years and the loan amount varies from AUD $5000 to more than $500,000 depending upon the size of the business.
Each lender has a different policy associated with the loan amount and repayment terms. The rate of interest will also vary significantly based on factors such as length and health of the business, the creditworthiness of the borrower and business etc.
Terms for an unsecured business loan
| | |
| --- | --- |
| Loan Amount: | $5000 - $500,000 |
| Loan Type: | Unsecured (No collateral/Security) |
| Loan Term: | 3 months to 5 years |
| Loan Repayment: | Weekly, Fortnightly or Monthly |
| Loan Interest Rate: | Starting at ~9.9% p.a |
Unsecured Business Loan Eligibility
In order to get an unsecured business loan, businesses must meet the mimimum basic criteria as outlined below.
Active ABN with minimum 6 months in business
Mimimum turnover of $5000 per month
Fair credit history
Why should one go for an unsecured business loan?
Unlike secured loans, which require business owners to pledge their properties, inventory, equipment or other assets, unsecured business loans do not require small business owners to risk their personal or business assets to obtain funds.
Time is a critical factor when it comes to business. As a small business owner, you are often required to take quick decisions that will impact growth. For eg., if the holiday season is around the corner and you need more staff or a new equipment to increase production, you cannot delay that purchase for want of funds. In such cases, unsecured business loans are considered a better option, since the funds are usually available within a couple of days unlike traditional banks that would require more time and paperwork to process your loans.
What are the disadvantages of an unsecured business loan?
Since there is no collateral guarantee, unsecured business loans attract a higher rate of interest compared to secured business loans. This means that you will end up paying more interest over the tenure of the loan, making it more expensive than your traditional secured loan.
Unsecured business loans are also harder to qualify for, since these loans are purely based on the health of your business and your credit ratings. There is a higher chance of rejection if your business has a poor or non-existent credit history. If you are a fairly new start up, this might not be the best option for you.
Things to consider before applying for unsecured business finance
A strong action plan: The primary question one must ask is, why do I need this loan? List the outcomes you intend to achieve with the loan, be it for buying new equipment, hiring more staff, inventory or simply working capital. Once you have a good reason and an action plan, you will have better clarity on how to utilise the funds
Identify lenders who cater to businesses like yours: There are a lot of lenders in the market and each of them have specific criteria on who they can fund or not, how much they can fund, documentation required and interest rates. Since businesses are different, lenders also have preferences on the type of businesses they cater to. Hence it is important to identify the right lender for your business loan.
Repayment Plan: Since you are applying for an unsecured business loan, the lender must be convinced that you have adequate continuous business to ensure repayment of the loan. So, build a robust repayment plan that showcases your monthly income, overheads and loan repayment to convince the lender that your business is in good health. Your credit score will also play an important part here. If you don't have a healthy score, you might not qualify for a loan or end up paying higher interest rate.
Unsecured Business Loan Documents: This is a critical (and often underestimated) part of the process that is vital to your loan's approval. As mentioned above, every lender has a different criteria with respect to the loan they provide, and hence it is important that you are aware of and prepared to submit the necessary documents to ensure success of your application. This could include your business and personal tax returns, financial statements, bank statements and other legal documents related to your business.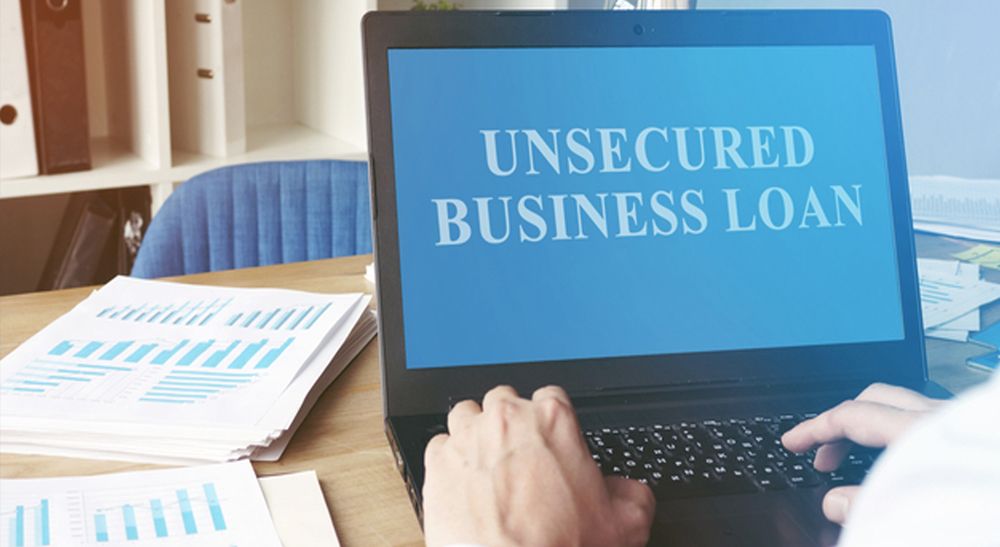 Unsecured business loans for startup
If you are a startup business in Australia and have been in business for over 6 months, you qualify for unsecured finance. Since it is highly unlikely that established banks will fund startup business needs, a lot of new business owners prefer unsecured lending for their cashflow or working capital needs.
The only thing you need to consider while applying for unsecured finance is that your business must be operational, older than 6 months and have an average turnover of at least $5,000 every month. A good credit history will also help give the lending partner the confidence that you are capable to repay your loans on time.
Unsecured loan with bad credit
If you a bad credit history, it is almost certain that you will find it difficult to secure funding for your business. However, in some cases, if you are able to establish your reasons and build a strong business case, it might be possible to secure a loan.
Running a credit check each time to secure a loan can also adversely affect your score. Hence it is important that you apply with the right lender if your credit score is not high. At Capital Boost, we help our customers apply with the best fit lender to considerably improve their chances of securing a loan.
Need more information?
Here is a link to some Frequently Asked Questions that will help you find answers to some key questions on how to go about securing a business loan that suits your requirements. Also watch how we help businesses in this video.
If you are a small business owner seeking funds for your business growth, our loan specialists will work with you to understand your requirements, match you to the right lender and help you secure the right loan in the shortest time possible.
Contact Us
At Capital Boost House, we understand your need to grow and are committed to your success.
Speak to us today
To know more about our offerings and how you can get your business loan at the earliest, reach out to us!
Got a query? Reach out to us
Needless to say, your contact details are safe with us and we assure you that your data will not be misused.