Secured Business Loans
When businesses seek a short term business loan keeping their property or any other assessable asset as security, it is referred to as a Secured Business Loan. The assets you pledge to seek loans are often called collateral or security. You can use either your residential property, commercial property, vehicles or machinery as security.
From 9.9% p.a
Interest Rate
All you need to know about Secured Business Loans
If you are a small business owner, you probably know this all too well - easy financing is critical to growth. However, banks will often ask for collateral as security to reduce risk.
Some financial institutions or finance brokers use various terms to define different types of small business loans. If you look for small loans online, you will come across various terms such as short term business loans, small business lending, etc. However, there are majorly two types of business loans in Australia. Secured Business Loans and Unsecured Business Loans. In this section, we will try and demystify Secured Business Loans for you.
Secured business loans include term loans, and business overdraft, in some cases. While a term loan allows you to borrow a fixed amount with a fixed repayment schedule, a business overdraft provides back-up in case you are low on funds. You can utilise the overdraft as needed up to a predefined limit. There are no fixed repayments and interest is only payable on the amount utilised. A secured business overdraft is provided against pledge property or any asset as collateral.
Secured loans are the best option if you already have an established business with good cash flow and want to borrow a large amount. For example, secured loan can be an excellent option for buying the latest equipment or inventory.They can also come in handy to cover short-term needs like equipment, or inventory. Here, the asset itself serves as collateral for loan.
Secured loans are much cheaper compared to unsecured loans. This is because lenders tend to charge lower interest rates and provide the loan for a longer period of time compared to other business loan products. It is also considered less risky for the lender, as they can recover from potential losses in case of delinquent clients by taking possession of the asset.
What are the benefits of a secured business loan
Lower interest rates - Unlike unsecured loans, which pose a higher level of risk for the lender, Secured Business Loans are backed by collateral and therefore are provided at lower interest rates. It is also easier to recover from the losses by liquidating the secured asset in case of secured business loans.
Longer repayment terms - Secured business loans come withmuch longer time periods. The loan period depends on the asset pledged as security. For instance, commercial properties can help avail secured loans for up to 30 years.
Flexibility to avail multiple loans - You can apply for more than one secured business loan at a time, if the business has another asset, which hasn't been used as a security for any existing loan.
Easier to obtain – All you need is an asset with an assessable value to obtain a secured business loan.
Higher loan amounts – Secured Business Loans provide for larger loan amounts, as it involves lesser risk and greater flexibility.
What are the shortcomings of a secured business loan
While the benefits may make Secured Business Loans are many, defaulting on repaymentsmay lead to your asset being seized by the lender. The lender sells the asset to recuperate from the losses incurred. Moreover, this will also affect your credit score, impacting your ability to secure loans in the future.Therefore, before applying for a secured business loan and pledging your asset, you need to evaluate your capability to repay the loan with the agreed interest rate.
If you don't have an asset that you can pledge to secure a loan, you will not qualify for a secured loan in the first place
Secured Business loans often come with charges such as early repayment fees.
If you fail to repay the loan, you run the risk of losing your valuable asset. And if the asset is essential to running your business, it could lead to huge business losses.
Applying for a secured business loan
One of the most critical aspects of a Secured Business Loan is the asset you pledge against the loan. The lender will evaluate whether the asset is valuable enough to cover the value of the loan in case of default. Apart from assessing the asset's value, they will also evaluate the overall health of your business and in order to evaluate, they would seek certain documents which are listed below:
Complete details of any income generated by the asset
Copies of documents confirming the asset's sale and transfer to prove ownership
Details of an existing loan over the asset, if any.
Copies of registered documents if any, that certifies the valuation of the asset
Copy of insurance policy on the asset
Eligibility for Secured Business Loan in Australia
To be eligible for a secured business loan in Australia, the borrower typically needs to meet the following requirements:
Business Registration: The borrower must have a registered Australian Business Number (ABN) and be operating as a legal business entity.
Collateral: The borrower must have collateral to secure the loan, which can be in the form of property, equipment, inventory, or accounts receivable.
Credit History: The borrower's credit history will be taken into account when evaluating the loan application. A good credit score and history of on-time payments can increase the likelihood of approval.
Business Performance: Lenders may also consider the borrower's business performance, including financial statements and projections, to ensure the business has the ability to repay the loan.
Loan Purpose: The borrower must provide a clear and legitimate reason for taking out the loan, such as expansion, inventory purchase, or debt consolidation.
It's important to note that eligibility requirements may vary depending on the lender and type of loan being sought. It's best to research and compare lenders and their loan requirements before applying.
Who are eligible for secured funding in Australia?
Any SME businesses like Retailers, Jewelers, Restaurants, Wholesalers, Saloons, Grocery stores, Medical clinics, Hospitals, Pharmacies, Construction companies etc can be eligible for secured funding. The eligibility criteria for secured business loans typically depend on the lender's requirements and the specific loan program.
Some examples of businesses that are eligible for secured business loans include:
Sole proprietorships: A sole proprietorship is an unincorporated business that is owned and operated by a single person. These businesses may be eligible for secured business loans if they meet the lender's eligibility requirements.
Partnerships: A partnership is a business entity where two or more people share ownership and responsibilities. Partnerships may be eligible for secured business loans if they meet the lender's eligibility requirements.
Limited liability companies (LLCs): An LLC is a legal structure that provides limited liability protection to its owners. LLCs may be eligible for secured business loans if they meet the lender's eligibility requirements.
Corporations: A corporation is a separate legal entity that is owned by shareholders. Corporations may be eligible for secured business loans if they meet the lender's eligibility requirements.
Secured loans v/s Unsecured loans: Key factors to consider
A secured loan is ideal for business owners who have an established business and can put up collateral without risking too much.If you are a start-up, you are probably better off with an unsecured loan for which no collateral is required.
While secured loans have a lower interest rate and longer repayment schedules, approval can take weeks. So, If you need funds immediately, you might prefer an unsecured loan which is typically funded within 24-48 hours and can be repaid over 3 – 12 months. While the interest rate may be on the higher side, you end up saving interest in the long run as the repayment period is shorter. So, consider your needs carefully, before choosing a business loan option.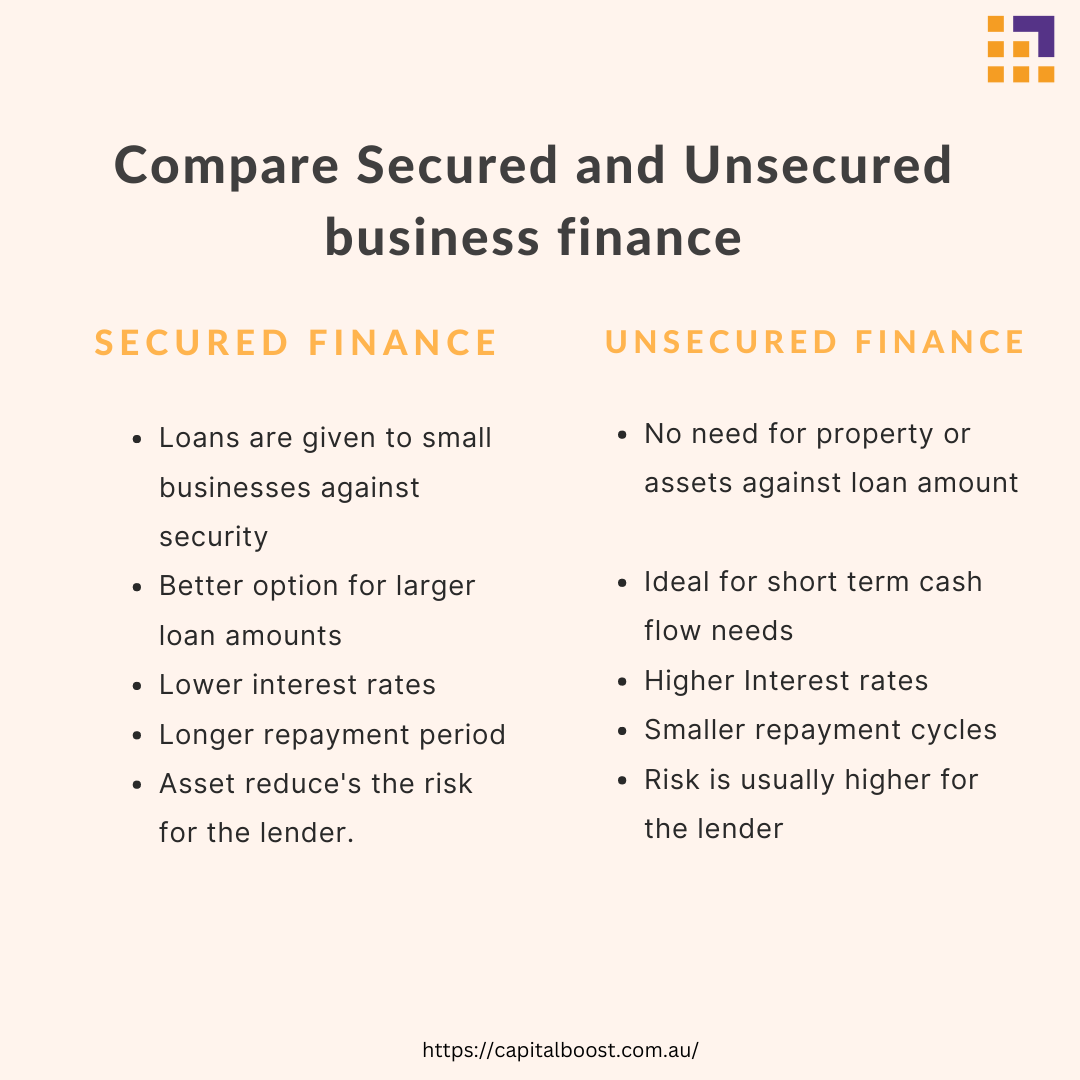 How can Capital Boost help you with secured business loans?
At Capital Boost, we understand every business is different and so is their need. We don't consider an application based on algorithms alone. Our structured approach ensures that your requirement will be pitched with the right lender, to ensure a fast, hassle-free loan without you having to do anything.
Every lender has criteria on who they lend to, how much they can lend, documentation requirements and time frame. At Capital Boost, we have partnered with multiple small business lending organizations to bring you just the right loan. We understand and evaluate your business and capital requirements before matching you to the right lender. We truly simplify your business finance by customizing your funding needs, and unlocking opportunities overlooked by others.
Frequently Asked Questions
1. Which assets can I use as Security?
Businesses usually use their commercial or residential property as security against securing a loan. Lenders also provide loans against vehicles, business equipment, gold or savings.
2. Am I allowed to sell the asset pledged as security?
You would need to take approval from the lender if you want to sell the asset which is used as security. It is in the lender's discretion to allow you to sell the asset used as collateral.
3. How can I apply for a secured business loan?
The first step to secure a loan is to find the right lender, who provides loans at a convenient interest rate and is ready to use your asset against providing you the loan. For further advice, you can talk to our lending specialists on 1300 360 530. The lending specialists will collect documentation and assist you to complete the application process.
4. What if I don't have an asset?
Apart from residential or commercial property, you can also use your savings, guarantees, and invoices as security. So, explore all your options before applying for the secured business loan.
5. Will I qualify for a secured loan in case of a bad credit history?
Large banks are very particular about the applicant's credit history, but there may be finance brokers such as Capital Boost who may provide more options. You can explore your options with those lenders who are ready to assist you in seeking a loan with low credit scores.
6. At what interest rate do we get Secured Business Loans?
It depends on the lenders and the businesses applying for the loan. Factors such as asset value, credit history, repayment terms, cashflow, and others are considered before deciding the interest rate.
Our personalised approach ensures we are able to cater to the needs of our customers in a unique way. You can call us on 1300 360 530 or fill the form below to apply for a secured business loan.
Contact Us
At Capital Boost House, we understand your need to grow and are committed to your success.
Speak to us today
To know more about our offerings and how you can get your business loan at the earliest, reach out to us!
Got a query? Reach out to us
Needless to say, your contact details are safe with us and we assure you that your data will not be misused.